Corporate Functions & Retreats
Reflections – Lake Cooby is your premier location for corporate events, functions and corporate retreats. Reflections is less than 30 minutes North of Toowoomba, less than a 2 hour drive from Brisbane, and a short flight from Sydney or Melbourne to Brisbane West (Wellcamp) airport.
Reflections is a unique conference centre nestled on 50 acres of native bushland overlooking Lake Cooby. Depending on your requirements, you can sit back and enjoy the relaxing environment or you can get physically and mentally active on many of the onsite outdoor activities.
Something magical happens when you step outside the boundaries of your every day life and into the wonder of nature. Corporate challenges look quite different when viewed from outside the office box. Here you can breakout in nature and be nourished while you work.
Our state-of-the-art indoor and outdoor facilities, combined with seamless organisation, will leave you free to focus on what really matters – long term payback, fresh and happy delegates buzzing with ideas. If you're chasing something out of the ordinary, you've come to the right place. Call us today for your complimentary pre-event tour or information pack and let us take your planning to a new level.
Reflections can be exclusively yours for any event, allowing you peace of mind as you reflect with clarity on your business and create new possibilities for your future.
Change the pace of your thinking.
Take time to ponder.
Breath in the lake views.
Breath out new possibilities.
Growth through Creativity
Instinctively, we all know creativity at work is important.
If creativity sees the commercial light of day, that's innovation; and innovation means growth.
So we have something in common – both our businesses depend on our ability to be creative at work. That's why we want you to challenge us to be as creative as possible in delivering a totally unique experience and why we want to provide you with the ideal setting to help your team's creativity to flow.
This panoramic view shows the location of Reflections on the eastern side of Lake Cooby. The facilities at Reflections are spread over 20 hectares of boulder strewn eucalypt forest overlooking the lake. With water virtually surrounding the property on three sides, you are assured of a unique, private experience. Our inland Australian location can be mistaken for a remote island.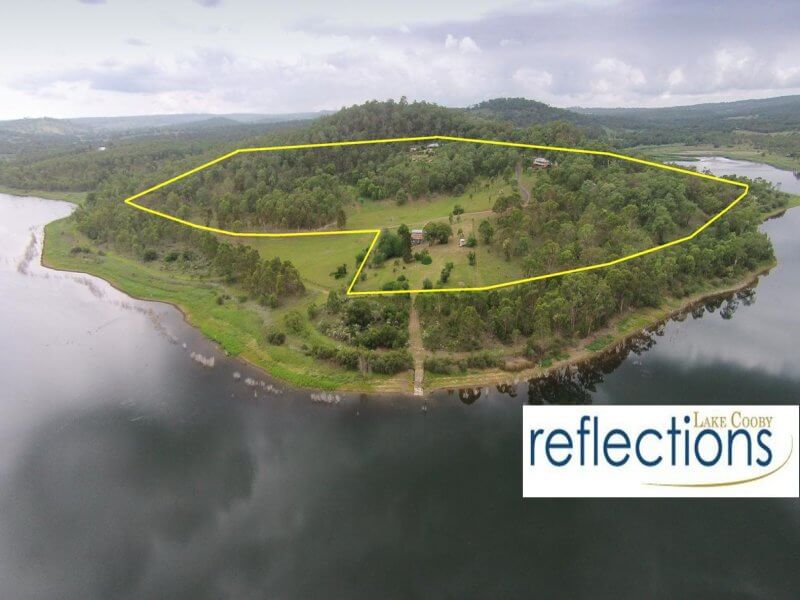 Below is a list of the Rooms and how many people they can hold. All rooms includes tables and chairs and can be organised into different configurations to suit your function or event.
| | | | | | | |
| --- | --- | --- | --- | --- | --- | --- |
| Room | Inclusions | Theatre | Classroom | U-Shape | Dining | Cocktail |
| Function room | AC, Smartboard, Projector, TV | 100 | 45 | 45 | 100 | 120 |
| Dining room | Fireplace, Direct kitchen access | 100 | 45 | 45 | 100 | 120 |
| Board room | AC, Whiteboard | 20 | 20 | 15 | 20 | N/A |
| Breakout rooms (2) | Round table, chairs | 7 | 7 | N/A | 7 | N/A |
| BBQ area | Rustic hardwood table and chairs, roller blinds, BBQ, Fire pit, Pizza oven | 40 | 40 | N/A | 40 | 40 |
| Barn (Loveday Barn) | Rustic wooden floors, close to water, BBQ, Fire pit | 50 | 50 | 40 | 60 | 70 |
| Marquee | 18 metre x 12 metre white hexagonal marquee. | 300 | 150 | N/A | 200 | 300 |