Reflections is tucked away on the eastern shores of Lake Cooby, an easy 30 minute scenic drive north of Toowoomba.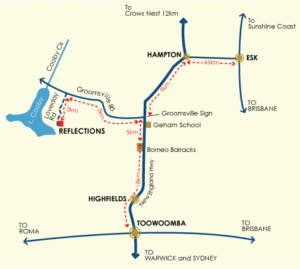 Directions
Reflections is located a short drive north of Toowoomba. From Toowoomba, head north along the New England Highway towards Crows Nest. Drive through Highfields, past the Cabarlah Military Barracks, then 3 kilometres past the The Farmers Arms pub. Turn left at the Groomsville sign and drive 5 kilometres along this road (Geham/Groomsville Road). Follow the signs to Reflections and turn left into Loveday Road (If you cross Cooby Creek you have gone too far.)
Reflections is located at the end of Loveday Road. (please drive slowly along the dirt road please). Once you arrive at Reflections, drive through the gates and follow the road around to the top of the hill where you will find our Reception office.